JOANNE PAVLIS

Joanne Pavlis has a solid background in horse care and training. She has over 18 years of equine experience in developing and schooling horses of all breeds, ages and sizes. She believes in continually improving and building on her expertise by participating in education clinics and courses.Her formal training began with hunter/jumpers and equitation, but her passion has become distance and Arabian horses

Joanne rides and trains English, Western and Trail. She believes in not limiting the variety of athletic ability and conditioning of any equine companion providing a solid balance in their work routine. As a certified equine vet technician, she also has an in-depth understand of the medical necessities and best practices for rehabbing horses.


Her focus, stronger now in 2012 then ever before, is to take horses into their new careers, whether it be the rehab and training of a rescue horse, or the show horse that needs to be retired, or even the racehorse that needs to move on to Endurance, the show ring, or pleasure riding. The passion Joanne seeks with every new prospect presented to her, is to allow the horse to present their passion and talent for their next career path.

Milemakers
+1 303 249 7630Telephone:
E-mail: jo@milemakers.com

GARY MILLAR

Gary has been actively involved in the horse industry from more than 30 years, serving in an executive capacity for many different clubs and associations, primarily within the Arabian breed and is currently the chairman of the Market Development and Promotion Committee of the Arabian Horse Association.

Always the innovator, Gary developed and continues to operate the Arabian Horse Reading Literacy Project, an educational program designed to bring children together with horses.

This program works to motivate children to "want to" read. By offering an exhilarating experience with live horses and adding good books, the students find themselves immersed in an exciting world where the horses are non-judgmental partners enjoying the time the students read.

Gary also uses horses in his communication and executive coaching business. The horses become a mirror for clients who find a renewed sense of self-confidence and self- awareness when working with the horses. As well, Gary's horsemanship workshops serve to educate horse owners, particularly those dealing with fear issues, and new people to the horse industry and instill confidence and encouragement to better enjoy horses and horse ownership.

Millar Venture Arabians
+1 780 499 9219Telephone:
E-mail: gary@millarcom.com

2015 Western Canadian Breeders - Saskatoon, Saskatchewan
KIDS ENCOUNTER FOUR-LEGGED READING AMBASSADOR ~ BY KENDALL LATIMER, THE STARPHOENIX

King George School students met a teacher whose horsenality encouraged them to keep reading.
"What these kids take away is far beyond the magic of the books and the reading," said Gary Millar, director of the Arabian Horse Reading Literacy Project. They also learn confidence, patience, focus, and respect for nature, animals and authority, he said.

"It's such a privilege to sit back and watch the kids grow," Millar said.
On Friday, June 19, the students were introduced to an Arabian horse named Sox who is part of a program that combines equestrian education with prompting kids to take pleasure in reading. Sox is a descendant of an ancient breed that trotted Arabian sands centuries ago.

The children were delighted as they patted the brown horse of the desert whose coat wears white socks.
The kids gathered on the grass to hear Millar explain what makes Arabian horses so special.
Their unique "horsenality" is key, he said, adding their sensitivity, communication skills and ability to read people's energy makes them ideal candidates for the program, which started in Alberta.

Millar brought books of various reading levels about horses, as well as a large poster of Sox. When he told the kids that Sox, who is 13 years old, was at the school, his words were met with an excited chorus of "Wow!" and "Where?"

The complete article and video are posted on The StarPhoenix.
HORSE LITERACY PROGRAM REACHES
SASKATOON STUDENTS ~ Global News




An Alberta literacy program stopped at a Saskatoon school today to encourage students to read. Aaron Streck says the good listeners prove to be effective teaching tools.

The complete article and video are posted on Global News.
2015 ARABIAN HORSE DAY: Love Arabian Horses! - Ponoka, Alberta
Aurora Arabian Horse Association was excited to have so many people share in their 50th Anniversary celebration at this year's summer horse show. The show hosted more than 130 horses at this 3-day event from Friday, May 29 to Sunday, May 31, 2015. There were a variety of classes going on in both show rings of the Calnash Trucking Ag-Event Center in Ponoka, Alberta. There were riders under five years of age, some over 50 years, and lots in between.

This year the Arabian Horse Reading Literacy Program visited the Ponoka Christian School prior to the show, allowing the 'kids' an opportunity to meet a real live Arabian horse. Some even practiced the magic of reading together to a four-legged friend. What a thrill is was for the whole school.
We had a wonderful gathering of our early association membership joining in the celebration of this exciting anniversary and 13 members of the Aurora Arabian Horse Youth Association showcased an outstanding parade of disciplines. Thank you to Briar, Alyssa, Kaitlin, Marijke, Megan, Erika, Shaylin, Madelaine, Alana, Kassie, Anna, Arianna, Grace and for sharing their special relationships they have with their horse and their horsenality! Check out the video on YouTube.

The public accepted our invitation to the ARABIAN HORSE DAY: Love Arabian Horses! Families took guided tours, got "up close and personal" with our horses … were amazed by their soft big brown eyes and beautiful faces! Lots participated in our education center where visitors, young and old made horse masks and buttons, and just enjoyed that time-honoured activity of coloring.
2014 Western Canadian Breeders - Saskatoon, Saskatchewan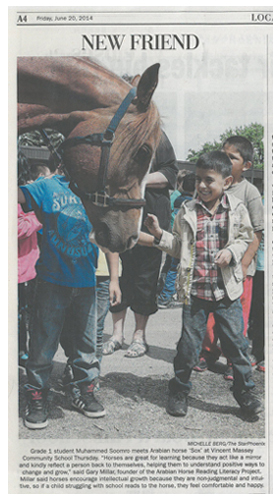 The Arabian Horse Showcase was the highlight of a three-day champion competition from June 20-22 at Prairieland Park called the Western Canadian Breeders. An inter-provincial championship competition featured some of Canada's finest Arabian show horses. Classes included dressage, native costume, driving, western pleasure, hunter pleasure, reining, and so much more.

The showcase on June 21 celebrated the beauty of the Arabian horse. With horse and rider demonstrations, and audience interaction aimed to connect people with the horses and the disciplines, from walk trot to native costume that the versatile Arabians excel in. An open barn tour followed. There was also live feed of the showcase on ArabianHorseGlobal.com sponsored by Rae-Dawn Arabians. Please take a look at some of the highlights at click here.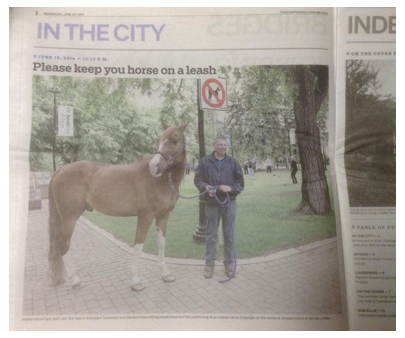 Outreach was an added goal of this year's competition by including visits to three schools and downtown Saskatoon on June 19. The Western Canadian Breeders partnered with Gary Millar of "Discover Arabian Horses.com" and "The Arabian Horse Reading Literacy Project".
The Arabian Horse Reading Literacy Project motivates children to discover the joys of reading and learning through the magic of contact with a live horse. Founder Gary Millar's goal is, "to spark the imagination of children so they will want to read and enjoy their own sense of creativity as they escape into a world of adventure."

Children learned about horses, received reading material, asked questions and had a chance to meet Sox after the presentation—touching and petting was encouraged! "What a absolute joy to see the expressions on these kids faces, and some of them had their hearts nearly bursting out if theirs chests, they were so excited!"—Tex Kam, President of the Canadian Arabian Horse Registry.

Two crews from Global News and Shaw Media were along for the ride with The StarPhoenix newspaper and NewsTalk 650 CKOM local radio. Article also ran in The Vancouver Sun and Montreal Gazette. Exposure is what we are all looking for to increase the awareness of these magnificent creatures. This is what is needed to do consistently in our communities and this group did it so well!



Click here to checkout our Facebook photo album.

Click here to checkout Global News or pdf format.
Click here to checkout News Talk 650 CKOM or pdf format.
Discover Arabian Horses.com: A great time had by all at the 2013 Northlands Farm & Ranch Show!
We were so pleased to share our beautiful Arabian horses with over 300 children from the Classroom Agricultural Program (CAP). Daily round pen sessions were delivered to a captive audience.

DAH welcomed visitors young and old offering educational materials, making horse masks, buttons, fortune tellers, paper rings, and so many simply enjoying the time honored activity of coloring.

Even some had a date to read with our four-legged friend, the "magic" of story time was a success in partnership with the Arabian Horse Reading Literacy project.
Thank you to everyone involved in these activities. We could not have done it without our fabulous volunteers!

Click here to checkout our Facebook photo album.