Services provide by Arabian Horse Association members.
Listing and contact information for Arabian stables/barns offering riding lessons, boarding opportunities, farm tours, workshops and other related activities associated with the Arabian horse community.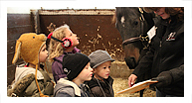 ARABIAN HORSE READING LITERACY PROJECT ALWAYS HAS VOLUNTEER OPPORTUNITIES AVAILABLE.
The purpose of this wonderful project is to motivate children to discover the joys of reading and learning through the magic of contact with live horses. To spark the imagination of children so they will want to read and enjoy their own sense of creativity as they escape into a world of adventure. Check out their website and learn more about this incredible program.

Check our these clubs and association and see what they have to offer within the Arabian Horse Community.