We want our newcomers to have a positive experience by connecting potential owners and novices with more experienced Arabian enthusiast. Start out on the right path by meeting with a mentor.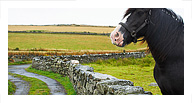 WHAT IS DISCOVER ARABIAN HORSES.COM?
... IT'S ALL ABOUT THE ARABIAN HORSE!
It is a new, private initiative to provide high impact and effective "outreach", attracting new people to become involved in the Arabian horse community, take riding lessons and join clubs.
It is an initiative to create and maintain positive relationships within the Arabian horse community through clubs, barns, stables and supporting groups and businesses.

Gary Millar
President & CEO
+1 780 499 9219
Telephone:

Newcomers package consists of an Arabian horse guidebook, other Arabian horse promotional materials as well as a listing of services provided by Arabian Horse Association members. The newcomer package will be mailed out and the newcomer's names will be placed within our database to ensure that they stay connected with the Arabian Horse Community.
PLEASE SEND YOUR:
name, e-mail, and phone number;
along with your complete mailing address (address, city, province and postal code).